CFL High Power
The all new nLIGHT® High performance Compact Fibre Laser range is the highest power fibre laser available in this form factor. This next generation medium and high power compact lasers are available in both Continuous Wave (CW) and modulated modes, ranging from 3000 Watts for thin material processing, up to 10000 Watts for thick material cutting and welding to. This generation of lasers are designed to exceed user expectations, both in terms of performance and reliability, a must for OEM and bespoke machine builders manufacturing for industrial applications.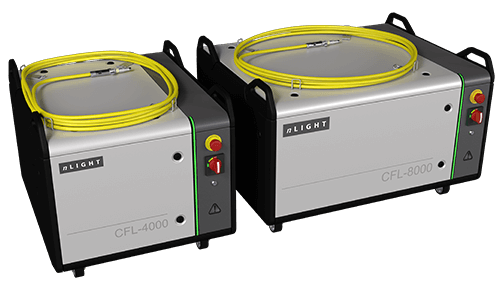 nLIGHT® incorporates several improvements over other commercially available fibre lasers, these include:
Unparalleled modular design to minimise down time and maximise uptime.
Fail safe processing of highly reflective materials
Advanced Electronic design to allow faster piercing with low heat affected zone
Designed for durability and to operate in harsh environmental conditions
Laser powers from 3000W up to 10000W
QBH Connector as standard.
Optional fibre-to-fibre coupler or beam switch available
Fibre core sizes from 50µm to 200µm
Fibre delivery lengths of up to 30 meters
nLIGHT® High performance Compact Fibre range of lasers are typically used for industrial welding, cutting and thin metal processing applications. Coupled with nLIGHT's back reflection isolation technology – you can operate these lasers continually at full power, processing highly reflective materials with a comprehensive selection of processing heads and application specific accessories.
nLIGHT® High performance Compact Fibre range of lasers are capable of delivering modulation rates of up to 50kHz and rise and fall times of less than 10µs, with anti-back reflection isolation included. This technology allows uninterrupted full power processing of highly reflective materials, achieving faster processing of fine features.
nLIGHT High performance Compact Fibre incorporates a unique, proprietary fiber laser architecture that enables OEM, bespoke system builders and end users to manage common field service events, this results in higher machine uptime, lower cost of ownership, and an improved customer experience
Optical
units
Mode of operation
CW/Modulated
Maximum average power (CW)
W
3000 – 10000
Maximum peak power (Modulated)
W
3000 – 10000
Power tunability
%
5 – 100
Power variation (8 hr)
%
≤ 1
Modulation frequency
kHz
≤ 50
Rise/fall times
µs
≤ 10
Beam quality (multimode options)
mm-mrad
≤ 5.0 with 50 μm fibre (5000W Max)
≤ 5.0 with 100 μm fibre
≤ 11.0 with 200 μm fibre
Wavelength
nm
1070 ± 10
Electrical
Operating voltage 500 – 1200 W
Vac
3P +PE 380-480
Operating voltage frequency
Hz
50/60
Control interface
External HW Control , Analog Power Control , Ethernet Control, GUI and API
232/Ethernet
Optional Control interface
EtherCat, Ethernet/IP
DeviceNet ,
PROFIBUS,
PROFINET
Mechanical
Dimensions (with casters, covers, interfaces)
mm
685 W x 800 D x 560 H (3000W – 5000W) 1010 W x 800 D x 560 H (6000W – 10000W)
Optical fiber
10 m, 20 m & 30 m QBH connector standard
Fiber-to-fiber coupler/beam switch module
NA
Cooling method
Water
General Conditions
Operating temperature
⁰C
10 to 40
Storage temperature
⁰C
10 to 60
Relative humidity
%
10 to 80