Fenix Flyer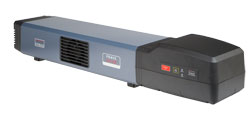 The Fenix Flyer has been designed to meet a wide range of product marking requirements and is easily incorporated into stationary or moving production processes. At marking speeds of up to 450 characters per second the Fenix Flyer creates clear, crisp marks on glass, plastics, wood, and countless other organic materials.
Operated using WinMark Pro Software
USB or Ethernet Control
Tethered or Untethered operation
Wide choice of Focal Lens to offer different  marking fields
Choice of Focus Lens
2 Years Parts & Labour Warranty
Fully RoHS & CE Compliant
The Fenix Flyer is built upon the 48-2, 25 Watt CO2 laser.  The Synrad 48-Series laser range is the industries gold standard for long operating lifetimes and high reliability. The Fenix Flyer incorporates the FH-Flyer galvo marking head and includes internal cooling fans and power supplies in to a self-contained marking system.
Simple to use, the Fenix Flyer is operated via a PC interface and derives its power form a single 13A supply.
Initial connection to setup the laser is via USB, but once configured the Fenix Flyer can communicate with a PC, server or network over an Ethernet interface.
This latest version of the Fenix Flyer includes a number of design improvements, these include rugged cast Aluminium endcaps, a simplified control panel and improved user interface on the rear panel. The rear panel gives you access to the lasers DB9 interface, DB25 I/O connector as well as the USB and Ethernet ports.
Controlled by the latest version of WinMark Pro, the Fenix Flyer is simple to operate, enabling the operator to quickly perform a wide variety of marking operations, including the ability to perform automated functions such as date coding and serialisation in both human readable characters and machine-readable codes.
Laser Lines offer alongside the Fenix Flyer, advice, applications assistance as well as a large number of optical, electrical and mechanical laser accessories to enable specialist machine builders to design and manufacture high end solutions.
Model
Fenix Flyer
Output Power (Watts)
25
Mode Quality
M2 ≤ 1.2
Ellipticity
<1.2
Rise Time
<150µs
Beam Diameter
3.5mm
Beam Divergence
4.00mR
Wavelength
10.6µm
Power Stability, From Cold
±5%
Cooling
Fan
Input Current / Voltage
240V / 13A
Dimensions (mm)
1184 x 245 x 188
Weight (kg)
30.8
Marking Speed2
450 Characters / second (Max)
Lens Types
370mm
200mm
125mm
80mm
Field Size Normal mm
198 x98
110 x 110
74 x 74
27 x 27
Field Size Extended mm
297 x 241
165 x 134
105 x 85
41 x 33
Spot Size µm
540
290
180
116
Working Distance
350 ±5
190 ±3
128 ±2
74 ±1