OR-Laser Programmable Cladding Systems
To be able to source a complete laser cladding solution from one supplier – that includes the latest highly efficient fibre laser technology, integrated multiple movement axis controls, an ergonomic Class I laser safety enclosure and market leading software to control the complete system, makes this of obvious interest to companies with an interest in laser cladding.
Complete Stand Alone Programmable Laser Cladding Systems
Class I and Class IV laser safety configurations
Multiple Axis Control (including robotic options)
Utilising fibre laser technology (so high levels of efficiency)
Compact cost effective solutions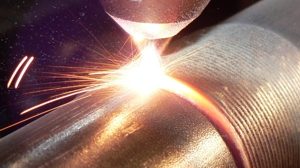 Laser Lines is happy to assist companies with an interest in this technology by assessing their needs, performing trials and optimising process routines to deliver the quality, speed and processing they require, prior to proposing a suitable system to meet their part processing, throughput and handling requirements for years to come.
Also referred to as powder welding – laser cladding with these systems allows metal deposition on the irregular shapes and surfaces of parts, of all sizes, including intricate parts for aerospace, oil and gas, cutting and automotive applications.
Incorporating fibre laser technology at varying power levels (typically below 1kW), and coupled to custom designed processing heads, allows laser cladding to be performed with new levels of accuracy and consistency, whilst minimising heat input in to critical parts. This allows the highest levels of wear resistance to be created, along with the capabilities to modify mechanical and physical properties on parts to significantly enhance their performance in challenging environments and applications.
Built into a range of adaptable industrial workstations that can include integral movement capabilities, robotic handling and rotating tables, this technology offers exciting new options for high technology industries, with ergonomically styled workstations designs that are designed for both durability and functionality.
Incorporating ORLAS software, these systems make programming for laser cladding systems quick and easy with superb visual displays and logical programming routines that make this a unique solution for modern industry.