Laser Lines, the UK's leading supplier of industrial & scientific lasers, accessories and 3D printers, today announces the Datalogic Arex 400 range of fibre laser marking systems, suitable for users in advanced manufacturing. Designed to fit in with robotic operations on a production line, the solution is extremely flexible and versatile with an ultra-compact footprint. The Arex 400 systems have a high resistance single conduit head connection and the capability to operate at up to 40 Degrees Centigrade, at 100% power as standard.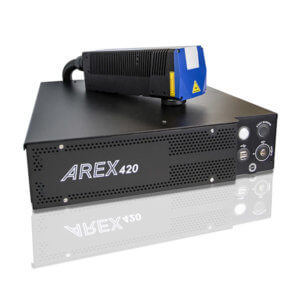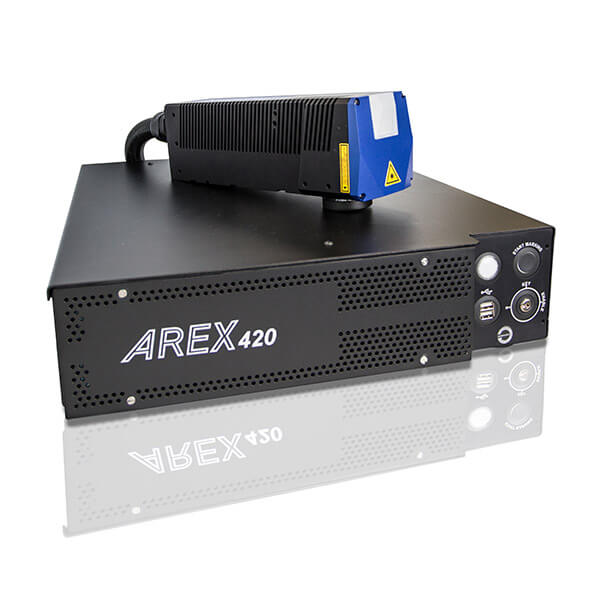 Datalogic already has a strong, comprehensive and innovative range, but the new Arex 400 systems now offer the smallest laser head size presently available, which makes them ideal for those who need to integrate a solution into a production line, where there is little space. The impressive head is also extremely light so can be held by a simple-to-fit bracket and includes the useful 'Green-Spot' feature, which gives the operator a visible feedback on the completion of a successful marking action.
Chris Ogden, Manager of the Industrial Laser & Photonics Divisions at Laser Lines, says: "The Arex 400 range has a lot to offer – from its versatility and high precision to really useful features for the operator. This range is particularly suited to advanced manufacturing systems where traceability, part ID and brand markings are paramount, such as the automotive market."
The Datalogic Arex 400 laser controller offers enhanced embedded PC performance and further improved connectivity, with low noise operation and washable filters with improved dust and oil protection.
Enhanced safety circuitry also makes sure that these systems are suitable for even the most demanding OEM integrations and meet the most stringent safety requirements of modern industry. Extended repetition rates have also been added to the Datalogic range, making the systems more suitable for marking plastics and heat sensitive materials. The Arex 400 range now comes with IP64 protection and a robust and high strength body design, machined from solid Aluminium.
The Datalogic Arex 400 range is shipping now and is available for demonstration at Laser Lines's facilities in Banbury, with the range including 10W, 20W, 20W MOPA, 30W and 50W power options.
Users who are interested in visiting the facility to see a demo, should contact Laser Lines on 01295 672588, by emailing chriso@laserlines.co.uk