Benchtop
Laser Lines offer a wide range of workstations, so if a slightly larger laser marking workstation is required then the benchtop range offers larger workstation sizes, with the capability to include an advanced a range of optional features and upgrades to give you exactly what your production requirements need.
Available in standard and extra width designs
Space saving vertically-sliding door design
Can be supplied with powered and programmable Z-axis and internal movement mechanisms.
Rotary Marking Fixture available Including heavy duty option.
Benchtop workstations can be easily upgraded to a floor standing workstation.
Designed to be take up a minimum amount of bench space, Laser Lines use vertically sliding door design, with an automatic powered door option available. Built to industrial standards for continuous use, these workstation are installed in a wide number of advanced manufacturing industries, where durability and trouble free performance is expected. Workstation Options from Laser Lines include powered and programmable z-axis control, that can be programmed through the laser marking software. Circumferential marking fixtures, with standard and heavy duty options available and integral movement mechanisms, further extend the marking area where the standard marking fields are not sufficient. Fume extraction, code verification cameras and lighting and additional fixture designs and label feeds help make up the comprehensive range to which additional customisation are also available.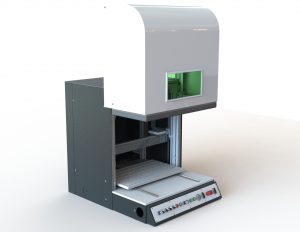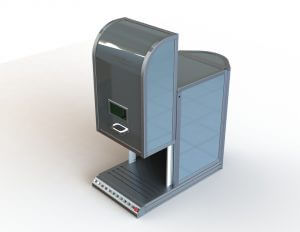 Available in standard and increased workstation widths, the Laser Line desktop workstation range come with high level illumination and control panels that make using these systems simple and easy. The well designed control panels offer functions for simple and high throughout operation of the system – without the use of a keyboard and mouse. If your requirements change or you choose to change the layout of your manufacturing facility - then the option exists to add a workstation stand to these benchtop workstations, to make them floor standing and giving you the added flexibility required at minimal cost.