CO2
Shipping their first CO2 laser in 1988, Synrad are considered to be the world leader in CO2 laser technology with their patented "All Metal" tube technology and to date have manufactured in excess of 250,000 lasers. Employing over 160 personnel, Synrad operates out of a purpose built 20,000m2 facility in Seattle in Mukilteo, Washington state. Synrad is part of the Novanta Inc. family of companies, the leading global supplier of precision photonic components and subsystems to OEM's in the Medical, Industrial and Microelectronics markets. Synrad lasers are well established in many industrial applications, in fact 80% of Synrad lasers are sold to OEM or specialist machine builders, manufacturing for some of the following markets,
Flatbed cutting systems
Robotic manufacturing cells
Desktop engraving systems
Laser markers and laser coding systems
Medical systems
Converting systems
Both Synrad and Laser Lines offer CO2 laser application testing to OEM, laser system integrators, material manufacturers and end users of automated machinery. We are CO2 laser experts, and understand the parameters that will ensure successful, efficient CO2 laser processing either at Laser Lines in Banbury in the UK or Synrad in Munich, Germany. Using the latest high performance Synrad CO2 lasers, Applications Engineers will determine the optimal laser power, wavelength, and processing know-how to achieve the desired results, based on your specific requirements. We have the added ability to investigate new laser techniques, test new materials for laser-process-ability, and solve laser processing challenges. Applications testing services are provided at no cost, testing is done on actual user-supplied materials and there is no purchase obligation as we are confident that users will realize the benefits of our high performance CO2 lasers, and will see the advantage and value when integrating Synrad lasers in their processing systems. An Application Test Report will be provided and tested sample materials will be returned upon completion of the testing. Requesting an applications test is simple and easy, just give us a call.
Laser Sources
10-400 Watts Suitable for laser marking and laser cutting
More
-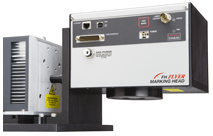 Suitable for Laser Marking, Laser Cutting and High Speed Cutting/Converting Systems
More