Cladding
Laser cladding is a deposition process used for adding a layer of material, usually a metal, onto a substrate. Typically either a wear or corrosion resistant layer is added to increase the service lifetime of the part.
In laser cladding, either a filler wire or metal powder is injected into the laser beam and fused with the base material. Traditional methods of cladding and coating often lead to high heat input causing component distortion, formation of coarse grain structure and poor adhesion to the substrate.
These disadvantages are overcome by laser cladding, which offers the following benefits:
Coating with low heat input means low distortion
High process stability
Easy to automate, even for 3D geometries
Homogeneous microstructure
Excellent adhesion properties (metallurgical bond)
High surface quality, hardly any post-processing is necessary
  The laser beam creates a molten pool at the workpiece surface, to which is simultaneously added the coating material (wire or powder), also molten by the laser. The exposure time is short and creates only a short delay, as the cooling is quick. The result is a layer that is connected with the basic material metallurgically. It is tougher than the coatings created by thermal spraying, and compared to hard chromium plating for example, it is harmless to health. The favoured lasers for cladding applications are Laserline diode lasers, both the LDF and LDM series. The characteristics and the top-hat beam profile of the diode laser create a particularly even melt pool, which produces fine-grained, pore-free and crack-free coatings. Post-processing is therefore reduced to a minimum. They can also be used to create very thin coatings, which until now could only be realised by hard chromium plating. These lasers are readily integrated with robotic systems for automated processing, and offer a full 3D capability. We offer them complete with fiber-optic beam delivery, processing optics and powder or wire delivery nozzles. Special nozzles are available for cladding the internal surfaces of tubes.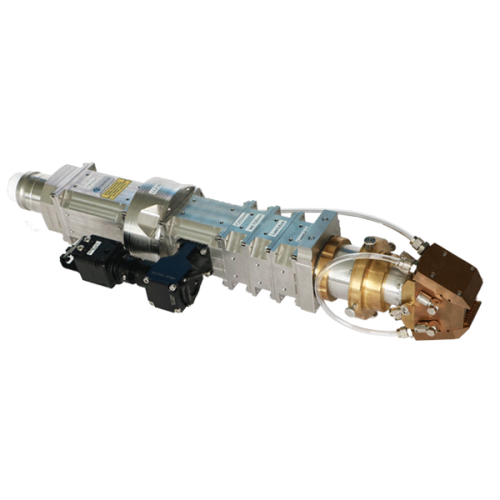 Laserline provide optical solutions for all applications. The range includes beam shaping optics, zoom lenses, complete cladding and welding heads, as well as add-ons such as pyrometers and CCD cameras for process monitoring and control. More