Floorstanding
Where a larger free standing laser marking workstation is the requirement – then the Laser Lines range of floor-standing workstations offers both strong industrial build quality, with the capability to integrate additional laser system items and options. Mounted on heavy duty lockable wheels (that make these workstations easy to relocate, if the factory layout changes), these workstations can also be easily modified, to include some useful features for the more challenging marking applications.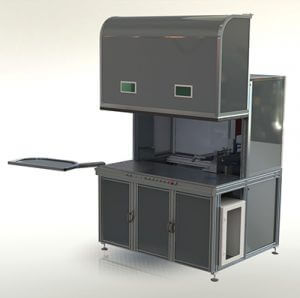 Available with a range of optional features and upgrades.
Choice of 3 different workstation widths.
Space saving vertically-sliding door design (with manual or powered options).
Can be supplied with powered and programmable Z-axis and internal head movement options.
Rotary Marking Fixtures available Including standard and heavy duty options.
Designed Storage Space below the marking chamber.
Ease of use and flexibility where key considerations in the design of these workstations, which is why the U-shaped vertically sliding door design, is so popular.  This gives unimpeded access from both sides, as well as from the front - to make loading and unloading easy, with multiple lighting points offering bright field illumination too. Available with 'light action counter-balanced manual' and 'automatic powered door' options to suit different applications. These workstations also include as standard, a tough t-slotted worktable, with additional fixture mounting holes, as well as the added advantage of variable z-axis mounting points.
Available in 3 different sizes 550mm, 900mm and 1500mm wide - all sizes have an extensive and well-developed range of options that can be selected to suit all of your marking requirements – these include powered and programmable z-axis, rotary marking capability (with quick connection) and the industry leading powered movement option, with accompanying software and large field marking capability. Fume extraction and purification, code verification / vision cameras and lighting - and additional fixture designs and label feeds help make up the comprehensive range of available configurations.