48-Series Lasers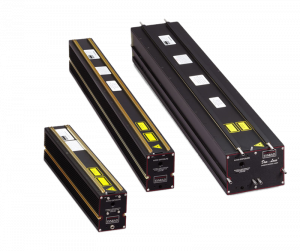 Industry Gold Standard
Output Powers 10, 25 & 50 Watts
OEM or Key-Switched
3 Years Parts & Labour Warranty
Fully RoHS & CE Compliant
Built for 24/7 operation, Synrad's original 48-series laser is the industries gold standard for long operating lifetimes and high reliability.
The 48-series lasers offer output powers of 10, 25 or 50 Watts and available in either OEM or Key-switch configurations the 48-series lasers from Synrad are ideal for incorporation into marking, engraving and small cutting systems, where performance, low price and high reliability are essential. For added peace of mind the 48-1 laser comes with a full 3 years parts and labour warranty, 48-2 and 48-5 lasers are supplied with a full 2 years parts and labour warranty.
The Fully RoHS and CE compliant, all 48-series lasers include an internal RF power supply and can be either air cooled or water cooled.
Additional Synrad accessories are also available, such as their UC-2000 power controller, visible diode pointer and closed loop kits for tight control of the power output from the laser.
The 48-series offers easy integration with the Synrad FH series marking heads to produce a high-end laser marker.
The all metal sealed tube design ensures high gas purity, essential for long operating lifetimes, the 48-series lasers on life test at Synrad have run continuously for 45,000 hours without experiencing any degradation in output power.
Synrad lasers can be operated up to 100% duty cycle, with the laser power adjusted using a pulse width modulation (PWM) control. The laser is controlled directly with a TTL signal via a rear mounted BNC connector. Alternatively, a DB-9 connector provides remote access to all the laser functions, including laser control, fault conditions monitoring, remote interlock and failure shut down options.
Laser Lines offer alongside the 48-series lasers, advice, applications assistance as well as a large number of optical, electrical and mechanical laser accessories to enable specialist machine builders to design and manufacture high-end solutions.