Compact Picosecond Lasers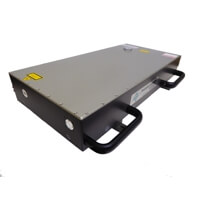 Photonics Industries RGH lasers are the most advanced and cost-effective industrial grade picosecond laser available anywhere. Over a thousand of them have been delivered, most of which are being used 24/7 in state of the art manufacturing applications.
Some of the benefits of our design include:
All in one shock and vibration resistant package.
Ultra short 10ps pulses for non thermal processing.
Field replaceable pump diodes
Ultra low cost of ownership.
High power, up to 100W in IR, 70W in Green, 45W in UV
High repetition rate (8MHz) for ultra-fast processing
High energy, >1mJ
Burst mode and AOM as standard
Manufactured in high volume, available off the shelf..
Applications that these lasers are being used right now for include:
Manufacturing flat panel displays
Glass and sapphire cutting and drilling
Semiconductor scribing and cutting
Ceramic cutting, drilling, and scribing
LED scribing, cutting and drilling
Ink jet nozzle drilling
Advanced laser marking
The choice is yours. You can use a research grade (sometimes it works, sometimes it doesn't) laser or one of our industrial grade RGH picosecond lasers.