ULYXE DPSS Laser Marker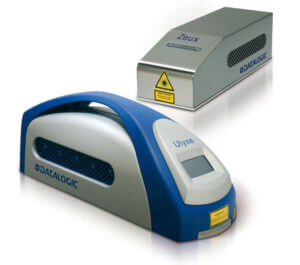 The ULYXE is a 6W fully integrated DPSS laser marking system designed with a small footprint and cost-effectiveness in mind. Suitable for both stand-alone applications but can also be suitable for integration into industrial production lines the ULYXE is an excellent all-round marking system.
As a DPSS laser with a 1064nm output the ULYXE is a great choice for marking applications across a wide range of materials. The ULYXE can achieve fast and high-quality marking on common engineering metals such as stainless steel, aluminium and titanium, as well as more exotic materials such as tungsten carbide and Inconel. However, the ULYXE is not limited to marking on metals, with high contrast marking possible on a variety of plastic materials, the ULYXE is a great option for customers with both narrow and varied application requirements.
ULYXE Key Features and Benefits
6W DPSS laser, with 12kW peak power.
Small footprint for easy integration
Suitable for the high speed marking of metals and plastics
Non-contact marking for faster set up
Excellent return on investment
 Easy to use software
With it's cost effective approach to laser marking the ULYXE is particularly suited to entry level laser marking applications where it may be replacing an older legacy method of marking, such as dot peening or vibro-etching. The non-contact marking that the ULYXE offers has considerable process benefits over more traditional methods, which require long set up times and the clamping of parts.
The ULYXE utilises the powerful Lighter software from Datalogic to program the laser marking. This software has built in functions for 1D barcodes, DataMatrix and 2D codes, consecutive number generation for serial numbers, the ability to import images and logos and many more functions required for a wide range of marking applications.