VLASE DPSS Laser Marker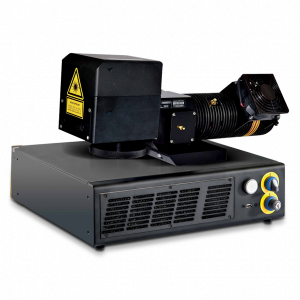 The Datalogic V-Lase systems are the very latest manifestation of years of on-going development based around the End-Pumped DPSS laser technology. These systems are available in a range of different power levels and wavelengths, that offer market leading technical specifications.
Based around a well developed and well established high performance laser technology
All V-Laser systems come with an embedded PC as standard.
Available in 1064, 532 and 355nm wavelengths
Features packed Lighter software
Well suited for medical device marking due to short pulse durations.
Supplied as standard with a 24 month parts and labour warranty with the option to extend this for up to 5 years (on some systems), the V-Lase systems have proved to be a highly reliable technology, that delivers consistently high-quality part marking results on a wide variety of materials, including metals and alloys, plastics, carbides and hardmetals and many other materials.
Compact in design and without the need for a separate PC, the Datalogic V-Lase systems are easy to integrate and can be also used for 'marking on the fly'. Well suited for both basic marking applications as well as high speed automated marking applications, the Datalogic V-Lase technology has been introduced into many of the worlds leading companies and advanced technology sectors, where high-quality marking, reliability and high-speed automation is required.
Available in 1064nm, 532nm and 355nm wavelengths, the Datalogic V-Lase systems have the capability to mark almost all materials, with the shorter wavelengths producing excellent marks on medical grade and difficult to mark polymers, transparent colourless plastics and glass materials too. These wavelengths and the DPSS laser technology also offer a lower heat affected zone than other laser technologies that gives excellent marks on semi-conductor materials (such as silicon for wafer marking), and medical devices where low heat input is important.
Linked to and supplied with the powerful yet easy to use Lighter software, the creation of marking programmes could not be easier with the flexibility to import and mark graphical layouts in a variety of different file types. This software is a step ahead with the capability to be used as a simple stand-alone software package, or with a simple Ethernet connection it can be used in a Master-Slave mode for more advanced part marking solutions.
Laser Lines offers a free sample marking service, where trial parts can be marked using the Datalogic V-Lase systems, to help customers see the mark quality that can be achieved using this technology.