f-Series Lasers
• Near Perfect Beam Quality
• Integrated RF Supply
• OEM or Key-Switched
• Rugged 3 Point Mounting
• Longer Resonator Design
As a leading manufacturer of CO2 lasers, Synrad has developed the f-series laser to meet the challenges of a global manufacturing marketplace by providing a new standard of performance, price, and reliability. With its patented free-space resonator design and fully integrated RF, the f201 laser provides the best cost per delivered watt available in today's market place.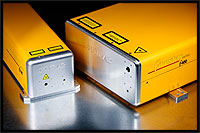 The 200 Watt single tube f201, has been designed with an innovative tube design, this displays excellent power stability, a distinct advantage in applications such as "Kiss-Cutting" multi-layer materials, thin-film welding, perforating packaging material, scoring as well as semiconductor wafer processing.
Its clean and simple interface to water-cooling and control signals make the f-series laser ideal for system integration. The laser provides system designers as well as OEM manufactures access to build a full turnkey solution quickly and easily whilst providing the maximum flexibility for system designers. By giving the system designers the best combination of size, simple interfaces and industry proven Synrad technology, system integration and time to customer delivery are minimized.
Synrad lasers can be operated up to 100% duty cycle, with the laser power adjusted using a pulse width modulation (PWM) control. The laser is controlled directly with a TTL signal via a rear mounted BNC connector. Alternatively, a DB-9 connector provides remote access to all the laser functions, including laser control, fault conditions monitoring, remote interlock and failure shut down options.
Laser Lines offer alongside the 48-series lasers, advice, applications assistance as well a large number of optical, electrical and mechanical laser accessories to enable specialist machine builders to design and manufacture high end solutions.