High Pulse Energy Picosecond Lasers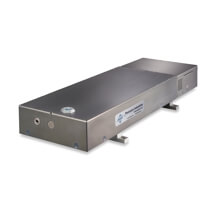 Photonics Industries RGL picosecond lasers offer a combination of high energy (>4mJ) and up to 5kHz repetition rate unavailable elsewhere.
Some of the benefits of our design include:
All in one shock and vibration resistant package.
Ultra short 25ps pulses for non thermal processing.
Field replaceable pump diodes
Ultra low cost of ownership.
High energy, up to 4mJ in IR, 3mJ in Green..
Applications that these lasers are being used right now for include satellite ranging, LIDAR, metal welding, cutting and deburring as well as stent manufacturing.
The choice is yours. You can use a research grade laser (sometimes it works, sometimes it doesn't) laser or one of our industrial grade RGL picosecond lasers.