Synrad Laser Marking Kits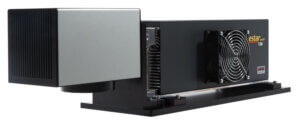 Synrad CO2 marking kits have been designed to meet a wide range of product marking requirements and is easily incorporated into stationary or moving production processes. At marking speeds of up to 450 characters per second the Fenix Flyer creates clear, crisp marks on glass, plastics, wood, and countless other organic materials.
• Laser Power from 10 Watts to 400 Watts
• Field sizes from 27mm square to over 1000mm
• Complete Mounting Kits
• Includes External Power Supplies
• Operated using WinMark Pro Software
• USB or Ethernet Control
• Tethered or Untethered operation
• Fully RoHS & CE Compliant
The marking kits are designed to be housed in standalone workstations as well as being integrated within an automated production line to mark or even cut out component parts.
The marking kits are able to incorporate a choice of either the FH-Flyer or the 3D Flyer Flyer  galvo marking heads, both utilising WinMark Pro marking software ensuring simple operation enabling the operator to quickly perform a wide variety of marking operations, including the ability to perform automated functions such as date coding and serialisation in both human readable characters and machine-readable codes..
Initial connection to setup the laser is via USB, but once configured the marking kits can communicate with a PC, server or network over an Ethernet interface.
Laser Lines offer alongside the CO2 Marking Kits, advice, applications assistance as well as a large number of optical, electrical and mechanical laser accessories to enable specialist machine builders to design and manufacture high end solutions.