vi Series Lasers
Wave Guide Technology
Superior Beam Quality
Real Time Condition Monitoring
Integrated RF Supply
OEM
The vi-series range was developed to further improve the appeal of the v series laser for OEM customers with the goal of producing the highest quality, compact, low power CO2 lasers possible.
Available in 30 Watt and 40 Watt models, the vi30 and vi40 lasers are only available in the air cooled OEM package making these lasers are ideal for integration into desktop engravers and compact marking systems.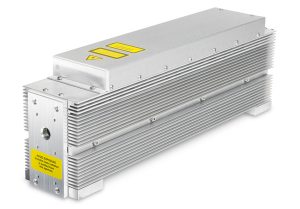 The vi30 laser features a simple OEM baseplate the ideal solution for systems requiring the most compact laser source possible. Two optional mounting feet allow for backward compatibility with the v30, tall mounting feet to make the beam exit height identical to the v30, or, for complete drop-in replaceability, add our alternate mounting feet to the vi30 for common mechanical mounting in addition to the beam exit location. Use of either of the optional mounting feet will create a common beam exit height to our t-series lasers, allowing for future upgrades to higher powers.
The vi40 continues with further improvements to the vi range of lasers, the new generation 2 laser tube lowers the thermal resistance to deliver more power within the same sized package. Further improvements include higher pulse frequency, very useful in high speed applications like marking and coding.
In addition, Synrad have introduced real time feedback of the lasers operating temperature, this data can be used to trigger system cooling or provide advance warning of a potential fault.
Fully RoHS and CE compliant, the vi-series lasers include an air cooled internal RF power supply, designed for OEM usage only, available only as air cooled supplied without fans.
Laser Lines offer alongside the vi-series lasers, advice, applications assistance as well a large number of optical, electrical and mechanical laser accessories to enable specialist machine builders to design and manufacture high end solutions.
| | | |
| --- | --- | --- |
| Model | v30 | v40 |
| Output Power (Watts) | 30 | 40 |
| Mode Quality | M2 ≤ 1.2 | M2 ≤ 1.2 |
| Ellipticity | <1.2 | <1.2 |
| Rise Time | <100µs | <100µs |
| Beam Diameter | 2.5±0.5mm | 2.5±0.5mm |
| Beam Divergence | 7.00mR | 7.00mR |
| Wavelength | 10.57µm – 10.63µm | 10.57µm – 10.63µm |
| Power Stability, From Cold | ±5% | ±5% |
| Power Stability, after 2 minutes | ±3% | ±3% |
| Polarisation | Linear Horizontal | Linear Horizontal |
| Cooling | Air | Air |
| Heat Load (max) | 500W | 600W |
| Flow Rate , Air | 140CFM x 2 | 140CFM x 2 |
| Input Current / Voltage | 48VDC / 10A | 48VDC / 14A |
| Dimensions (mm) | 428 x 89 x 138 | 428 x 89 x 138 |
| Weight (kg) | 5.9 | 5.9 |