Established over 75 years ago, TWI is a not-for-profit research and technology organisation that provides advanced contract research and development solutions to its 700+ members. TWI's mission is to help businesses and organisations with independent and authoritative innovation and expertise. With this, TWI aids a business' development with the latest research practices and equipment to solve industrial challenges.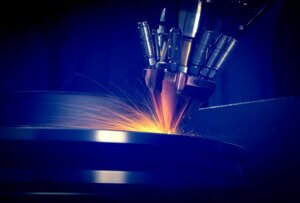 With over 20 years of history in laser metal deposition, TWI has recently invested in developing one of the newest coating technologies, Extreme High-speed Laser Application (EHLA), which is a step change from laser cladding. As a powder deposition technology, it involves melting powder particles in flight via a laser, directed from a precise nozzle. EHLA can apply metallic coatings one hundred times faster than conventional laser cladding, producing thin, integral coatings with minimal dilution and effect to the underlying component.
The introduction of EHLA technology at TWI began at the start of 2020 and was the first EHLA capability in the UK. Following this, in 2021, the UK Research and Innovation (UKRI) Future Leader Fellowship programme, awarded to Josh Barras and hosted at TWI, accelerated TWI's impact in the field.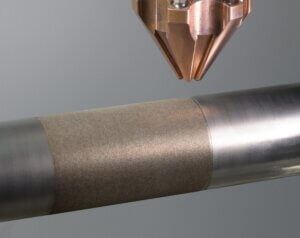 TWI worked with Oxfordshire-based laser specialist Laser Lines, manufacturer Laserline GmbH in Germany, and Hornet Laser Cladding in Holland, along with Fraunhofer ILT, the process inventors, to establish a UK centre of excellence for this new technology. Laser Lines provides the UK with systems and support of Laserline GmbH lasers. Today, Laserline GmbH's largest sector of sales is in lasers for deposition techniques, including laser cladding for coatings, repair, and additive manufacturing (3D printing).
TWI was keen to gather experience in diode lasers for deposition, better understand the requirements of high-power lasers for the EHLA process, and gain insight into the cost/ performance ratio.
Josh Barras, UKRI Future Leader Fellow at TWI, says: "The EHLA process was invented as a hard chrome plating replacement technology, which traditionally is a heavily used coating technique that is under a lot of regulation issues currently. There are quite a lot of health and safety issues with hard chrome plating, due to the chemical being used and recent and future restrictions related to sustainability and net-zero. The use of hard chrome plating now requires a permit or licence."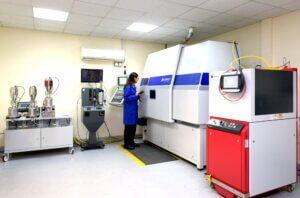 TWI's approach is to be technology-agnostic and work on a solution that will offer the best results for the benefit of its industrial members. As part of the programme development, TWI purchased a Laserline 7000-40 LDF.
TWI's EHLA FLF programme is active in researching EHLA performance while pushing the boundaries of what is currently possible by EHLA, such as further increasing production speeds, and delving into more complex geometries and materials.
The EHLA FLF programme highlights the automotive industry as one sector for conducting research. An example of this technology is the application of coatings onto brake discs. Once you remove the combustion engine from the equation and go electric, the most polluting factor are the wheels, tyres, and brakes. TWI's programme is looking at using EHLA to apply coatings to the brake discs, which provides more wear and corrosion resistance – not just improving the aesthetics, but also for other aspects including the life of the discs, harmful dust, and their performance.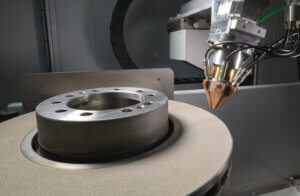 The aim is to offer a cost competitive approach to reduce wear on brake disc surfaces. TWI is also looking to see if it can reduce particles and hazardous material which is currently found in brake dust emissions. The approach is new material solutions developed specifically for deposition at speed using EHLA. This work is aligned to the anticipated release in 2025 or 2026 of the Euro 7 emissions regulations. Alongside the automotive sector, the FLF programme is driving development of innovative coating solutions for applications in energy, aerospace, oil & gas, and hydrogen.
TWI is learning day-by-day about the advantages that the EHLA technology for coatings offers, driven largely by the unprecedented precision and speed of application. This has already translated into numerous opportunities for TWI Members. This includes an interest to replace current coating operations for more environmentally friendly and agile production, but without having to compromise coating quality.
Because EHLA is a new technology, the FLF is underpinning fundamental learning to support industry uptake. A particular focus is around the challenges associated with speed and surface topology. Conventionally, laser cladding is performed at deposition speeds of one to two metres per minute, but it is now up to several hundred metres per minute with EHLA. This can be particularly challenging for applying a coating onto anything beyond a round bar or circular disc. However, TWI has demonstrated the potential of intermittent deposition for more complex repairs and additive manufacturing with EHLA. These first successful applications evidence the potential of high-speed deposition.