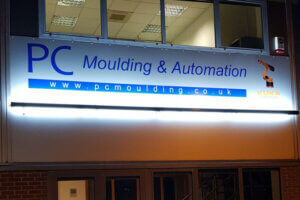 Formed in 2009, PC Moulding & Automation is a specialist in the automation of injection moulding.
The company works with a cross-section of industries and has over 200 customers of various sizes. Many of them are in the automotive industry, where PC Moulding & Automation works with Mann & Hummel, Rosti Automotive (a Jaguar Land Rover tier one supplier) and Nissan. In the medical space, customers include Owen Mumford, Polymermedics, Carclo, GVS Filter Technology and Olympus Algram.
The company has been working with Laser Lines for the past eight years, and for the last four of those it has been successfully buying and expanding equipment directly from the Banbury-based laser expert to include in its customised solutions. For many of its systems, PC Moulding & Automation uses a Synrad CO2 laser, which has a super, reliable, higher quality beam that gives incredible definition, lower service maintenance and a longer warranty.
Precision is essential
Roger Ewers, Technical Sales Director, says: "For our automotive customers we create and sell systems for laser degating of sprues. In many applications, precision is required to give a clean finish on parts which are painted and visible on the car, so a Synrad laser is an ideal solution for this."
"By automating the solution, we eliminate human error and also have the ability to fire the laser on and off during the programmed path. This ensures the part is processed in one movement giving a seamless, smooth, extremely high quality finish."
"For medical applications, we can supply laser marking systems for identification logos to ensure the traceability of parts and products."
Laser Lines is an integral part of PC Moulding & Automation's business growth in the automation of lasers. Roger explains: "Product awareness is vital when a system is being designed and with the full support from their team, from quotation to installation, we feel that Laser Lines is an ideal partner for us. Any enquiry we receive can be fully calculated with a comprehensive phase of testing, prior to order, giving complete confidence for our customers."
Fantastic customer service
PC Moulding and Automation continues to grow and relies on Laser Lines' help. Roger adds: "Laser Lines goes the extra mile for us and we really appreciate it. The customer service is fantastic and the team there are always very proactive with assistance for sampling and quotes.
"Laser Lines' staff members are really knowledgeable and experienced so we trust their technical advice completely. We are thrilled we can work with Laser Lines as a trusted and experienced partner and are looking forward to seeing what the future holds."
If you want to know more about working with Laser Lines or want some information on Synrad RF CO2 Lasers, email lasers@laserlines.co.uk or give Dave Earl at Laser Lines a call on 01295 672510