LDM Diode Laser
Laserline LDM diode laser systems are primarily OEM lasers focused on compactness, reliability and ease-of-integration. The LDM is a 19" rack mounted laser unit, that is the same size of a desktop PC. It includes the diode stacks, a fiber-coupling unit, the power supply, cooling unit and micro-processor controller.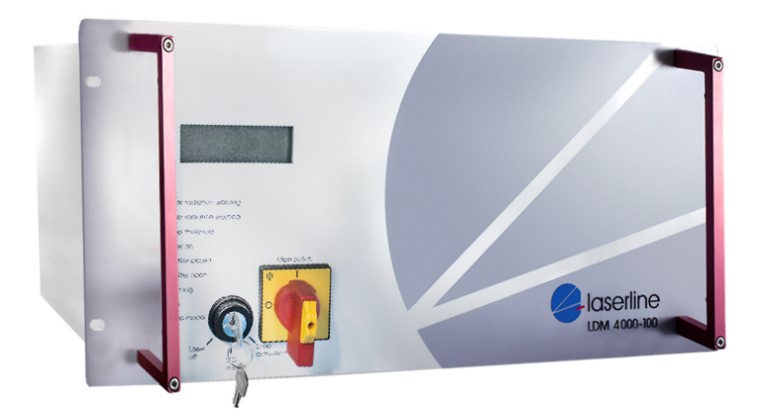 Technical features at a glance:
Up to 6kW laser power from a 19" rack
Beam quality comparable to a Nd:YAG solid state laser
Easy integration into machine tools
5 year warranty on laser diodes
Field replaceable service modules
Ideal for welding, hardening, cladding and mobile laser applications.
The 19" rack mount technology offers a significant simplification of the laser integration in machines or systems. Its' innovative small footprint allows the LDM to be easily fitted within the production area, for example inside a standard cabinet, within the processing enclosure, or even below the conveyor belt of a production line. The laser is perfect for OEM applications. Up to 6kW of output power is available from these compact units.
The LDM beam quality is comparable to that of a lamp-pumped solid-state laser, but with ten times the electrical efficiency and at a fraction of the size. This miniaturisation of the laser system leads to a significant reduction in the cost of investment and operation. LDM lasers therefore offer significant potential for not only replacing existing older technology lasers, but also for displacing conventional welding, repair or heat treatment processes.
To ensure a very high uptime of these laser systems, users are supported worldwide by Laserline teleservice, via the internet, around the clock. At the same time the latest generation LDM has been specifically designed for rapid maintenance and independent on-site servicing. The essential components of the system – diode laser head, cooling unit, power supply and control unit – are quickly and easily interchangeable as modules, even in the field.
LDM diode laser modules are complete with fiber-optic beam delivery, and appropriate process heads and application specific accessories are also offered.
Optical specifications
Max. output power
1000 W
2500 W
3500 W
5000 W
6000 W
Beam quality
20 mm.mrad
30 mm.mrad
40 mm.mrad
60 mm.mrad
100 mm.mrad
Other laser powers and process adapted beam qualities are available
Fiber optic cables
400µm (NA 0.1)
600µm (NA 0.1)
400µm (NA 0.2)
600µm (NA 0.2)
1000µm (NA 0.2)
Min. focus at f=150mm
300 µm
450 µm
600 µm
900 µm
1500 µm
Fiber length
10m, 20m, 30m, 50m, 100m, other lengths on request
Performance stability
< +/- 2% over 2 hours
Wavelength range
900 nm to 1070 nm
Mechanical specifications
VG5H
Weight ~ 50kg, dimensions: 19 inch rack 5HE (220mm), 636mm deep
VG7H
Weight ~ 110kg, dimensions: 19 inch rack 7HE (312mm), 672mm deep