High Power Femtosecond Fibre Laser
Femtosecond lasers for industry with cutting-edge performance.
Up to 100 µJ pulse energy in <250 fs pulses
1030 nm plus harmonic options (515 nm, 343 nm, 258 nm)
10, 20, 30 & 60 W versions
20 MHz base repetition rate tunable using software and built in pulse picker
All fibre front end for maximum lifetime
Ideal for micromachining, glass cutting & welding, and pumping OPAs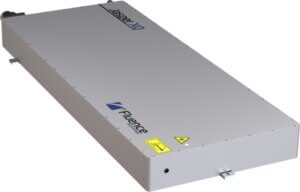 Jasper is a 1030 nm 100 µJ femtosecond fibre laser from Fluence representing a new step forward in ultrafast laser technology. Utilising Fluence's unique all-fibre front end, the Jasper provides up to 60 W with industrial grade performance and unmatched long-term stability and reliability.
It offers extremely short pulses for a high-power fibre laser at less than 250 fs, and a tunable repetition rate from a single shot up to 20 MHz. Unlike free space laser amplifiers, the integrated state of the art fibre amplifiers in a Fluence Jasper laser ensure unbeatable beam pointing stability, even in the harshest of environments.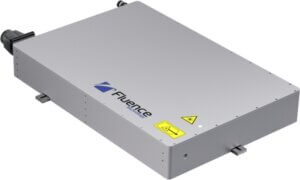 All this is provided in a fast starting, simple to use, maintenance free package which includes pulse duration tuning, pulse picker and burst-mode as standard for complete process control. Standard Jasper models range from 10 to 60 W average power, with green, UV and deep UV harmonic options available that feature exceptional conversion efficiency up to 15% at 258 nm.
Jasper Flex takes all of the technology of the Jasper and puts it in a more compact package, ideal for integration into systems. Providing up to 30 W average power from 30 µJ pulses at 1 MHz, the Jasper Flex offers the same features as above in a convenient format.
Jasper and Jasper Flex have been designed with demanding consumer electronic, integrated photonics, and display manufacturing in mind. Please contact Laser Lines should you have any questions or wish to have any samples processed.
Model
Jasper 10
Jasper 20
Jasper 30
Jasper 60
Jasper Flex
Maximum average power
> 10 W
> 20 W
> 30 W
> 60 W
> 30 W
Maximum pulse energy
> 50 μJ
> 100 μJ
> 100 μJ
> 100 μJ
30 μJ @ 1 MHz
System base repetition rate
20 ± 2 MHz
Internal repetition rate tuning
200 kHz – 20 MHz
300 kHz – 20 MHz
600 kHz – 20 MHz
1 MHz – 20 MHz
Pulse picker repetition rate tuning
0 Hz – 1 MHz
Pulse duration
< 250 fs (FWHM)
Pulse duration tuning
< 250 fs – 8 ps (optional 250 fs – 20 ps)
Central wavelength
1030 ± 5 nm
Optional wavelength outputs
515 nm, 343 nm, 258 nm
Built-in pulse picker
Pulse on demand, any division of the base repetition rate
Beam quality
 M2 < 1.3 (typical <1.2)
Polarisation
Linear, vertical
Burst mode for process enhancement
Included
External gating trigger
Included
Laser control software
Included
Micromachining
Glass Cutting
Surface Structuring
Ophthalmology
Pumping of Optical Parametric Amplifiers (eg. Fluence Harmony)