Bespoke
As well as offering a wide range of standard Class I workstations, Laser Lines can modify existing standard workstations or design and build bespoke Class I workstations to meet your individual requirements. With over 30 years of product knowledge and experience we can open up new possibilities of process efficiency for your business, to help give you the competitive edge.
Designed for your specific requirements
Single or multiple laser solutions
Multiple Linear and rotational axis options
Custom software solutions
Our Class I workstations can be fully automated to include automatic doors, multiple axes (both linear and rotational), as well as smart cameras for reading codes, or for positional part accuracy.  Bespoke workstations can even include multiple lasers and can also integrate fume extraction or additional chiller units that may be required.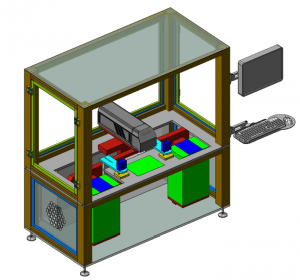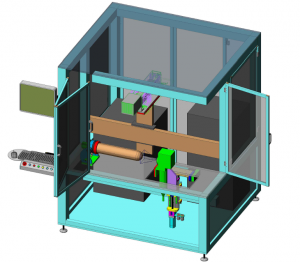 You may want to add a laser marking or laser cutting process on to an already existing manufacturing line - if so, Laser Lines can offer bespoke solutions for this too. We can deliver a full turnkey Class I workstation over your existing production line, or we can work with in house engineers or nominated third party specialist machine builders to provide a suitable solution.
Laser Lines engineers can also write bespoke communication software in house to enable all systems to communicate with existing manufacturing networks, whether taking data from a network which is used to instruct the laser what to mark or cut, or whether it is providing information back to a network to provide a 'conformation of process', or verification of what data has just been marked. Laser Lines can also provide a custom front-end software interface on the workstation allowing operators to select the specific process, either manually on a keyboard or via a hand or process scanner from a card based travelling system.
As well as providing a bespoke solution Laser Lines have a team of engineers that will install and train you on the use of your system. Once installed they are also available to quickly trouble shoot any issues that you have with the workstations, both over the phone or on-site.