Compact
It's no longer the case that laser marking systems need a large amount of space, quite the opposite - so the workstation designs from Laser Lines include very compact benchtop workstations, allowing the easy integration of modern laser marking systems, which themselves have reduced considerably in size.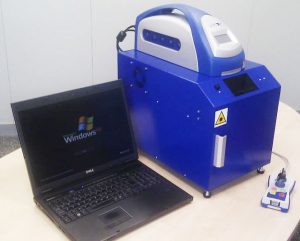 Ergonomic Durable Compact Workstations - designed to fit comfortably on standard depth benchtops
Competitively priced and suitable for both batch marking and occasional marking requirements
Compatible with additional accessories and options
Flexible in design with the option to increase the maximum part height
Whilst maintaining Class I laser safety levels and with features and options usually only present on larger more advanced workstations, Laser Lines have compact workstations that take up minimal bench space and fit comfortably on standard bench depths .  Designed with the operator in mind, setup, loading and unloading are all comfortable quick operations with the compact workstation designs that Laser Lines offers. Fitted with internal power supplies, diffused low voltage lighting and high visibility safety viewing windows along with mechanically engaging laser safety interlocks - the compact workstation range allows additional accessories such as fume extraction, standard and custom designed part fixturing and increased part height features to be added (for when larger parts need to be marked). This consideration at the design stage ensures the workstations are all highly flexible and future-proof. Careful consideration at the design stages also means that changing from a small to a larger workstation is an easy upgrade option should a companies marking requirements change significantly. With Laser Lines compact workstations its easy to remove the laser system and retrofit this into a new larger workstation with additional features, as our workstations share the design features that make this possible. Compact workstations can also include custom workstations which can also be designed and built to suit specific applications and to sit as part of a production line or a separate marking cell.