32 Series Lasers
• Available in Wavelengths 10.6µm
• For Precise Marking & Coding Applications
• Output Power 5 Watts
• Compact for Ease of Integration
• 2 Years Parts & Labour Warranty
• Fully RoHS & CE Compliant
The new ultra compact 32-1 CO2 laser from Synrad is Built for 24/7 operation and sets a new benchmark for low power, industrial grade lasers. The 32-1, the industry's smallest integrated RF 5 Watt laser available today and has been specifically designed for marking and coding applications on sensitive materials.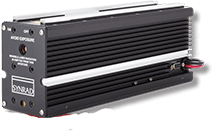 The 32-1 is engineered to perform in the most challenging environmental conditions, it features an impressive rise/fall time of <150 μsec, unmatched by any other CO2 laser available under 10 Watts.
At a fraction over 284 mm long and only 71 mm wide the 32-1 easily fits into desktop sized marking and coding systems. The 3.18 kg of the 32-1 adds minimal weight, maintains portability, and can ensures the 32-1 ca easily be integrated into small systems. Built to operate reliably, Synrad's ultra-compact 32-1 delivers a high-quality laser beam, even in the most demanding conditions.
The 32-series laser is available in either OEM or Key-switch configurations the 32-series lasers from Synrad are ideal for incorporation in to marking systems, where performance, low price and high reliability are essential. For added piece of mind the 32-1 laser comes with a full 2 years parts and labour warranty.
The Fully RoHS and CE compliant, all 32-series lasers include an internal RF power supply which is available as air cooled only.
Additional Synrad accessories are also available, such as their UC-2000 power controller, visible diode pointer and closed loop kits for tight control of the power output from the laser.
Laser Lines offer alongside the 48-series lasers, advice, applications assistance as well a large number of optical, electrical and mechanical laser accessories to enable specialist machine builders to design and manufacture high end solutions.
Model
32-1
Output Power (Watts)
5
Ellipticity
<1.2
Rise Time
<150µs
Beam Diameter
2.3mm ±5
Beam Divergence
8.00mR
Wavelength
10.6µm
Power Stability, From Cold
±15%
Polarisation
Random
Cooling
Air
Heat Load (max)
150 Watts
Flow Rate , Air
150CFM x 2
Input Current / Voltage
30VDC / 4A
Dimensions (mm)
284 x 71 x 106
Weight (kg)
3.18