EOX CO2 Laser Marking System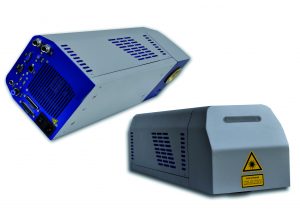 Designed for industrial coding and marking applications, the EOX CO2 laser marking systems are available in both 10 Watt and 30 Watt packages, enabling high quality marking on a wide range of materials including, card, paper, wood, ceramic and many other organic materials.
Embedded Windows Controller
Inbuilt Visible Diode Pointer and Focus Finder
Integrated Power Supply
Choice of Lens Options and Marking Fields
2 Years Parts & Labour Warranty
Utilises the Datalogic Lighter Marking Software
The 10 Watt laser is built in to a single, all-in-one case, making this one of the most compact CO2 laser available today.  Whilst the 30 Watt laser, as well as being equally compact for it power, benefits from the compact head design with a 19" rack mountable control unit which houses the control unit and power supply.
With a maximum extended marking area of 140mm x 140mm, the EOX laser markers include built in advanced marking and coding options to enable marking on the fly (MOF) and external axis control, both allowing greater flexibility when looking to increase product throughput.
Multiple communication ports make the EOX laser systems highly flexible, offering USB, Serial or Ethernet connections to interface with the laser. Capable of running in standalone mode, or connected to an external HMI or PLC – the EOX lasers with their customisable Lighter marking software interface makes integration clean and straight forward.
If you are looking for a turn-key then solution the EOX family of lasers can be supplied fully integrated in to one of our own laser marking workstations. Laser Lines workstations are available in a range sizes including desktop and benchtop options, through to fully customised floor standing systems, which can incorporate linear and rotary axes, coupled with automated doors and advanced vision systems to fully automate your laser marking process.
Laser Lines offer alongside the EOX CO2 laser, advice and applications assistance as well a large number of optical, electrical and mechanical laser accessories to enable specialist machine builders to design and manufacture high end solutions.
Model
EOX
Output Power (Watts)
10
30
Mode Quality
M2 ≤ 1.2
Repitition Range
10 to 25000 Hz
Alignment Beam
635nm ± 5nm, 3mW
Cooling System
Air Cooled
Temerature Range
15⁰C to 40⁰C
Wavelength
10.6µm
Power Supply
100 to 240V, VAC 800W
Laser Power Consumption
400W Typical
600W Typical
Connectivity
Control I/O signals and RS232, Photocell, Encoder;
Ethernet LAN, USB 2.0, Keyboard and Mouse, VGA, 4 Axis control
Dimensions Resonator (mm)
180 x 185 x 634
184 x 180 x 589
Dimensions Rack (mm)
N/A
88.5 x 430 x 335
Weight (kg)
22
26
Lens Types
100mm
200mm
100mm
200mm
Field Size Normal mm
70 x 70
140 x 140
70 x 70
140 x 140
Spot Size Approx µm
250
500
250
500