Micromachining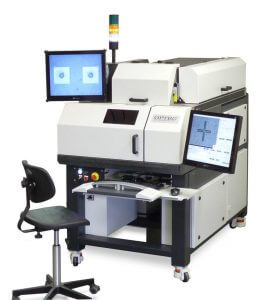 Laser micro-machining permits the milling, drilling and patterning of a wide variety of materials with features down to the micron scale. The process is characterised by very precise material removal, typically less than< 1µm in depth per laser pulse. Selection of the laser wavelength and pulse duration enables polymers, ceramics, metals and semiconductors to be machined.
Attributes of laser micro-machining include:
Smallest possible holes, < 5µm diameter
High aspect ratios
Precise material removal
Low heat input
No post processing in many cases
By choosing appropriate laser properties we can ensure clean edges to the feature created (with no dross or recast layer present). Versatility in laser drilling allows circular, square and conical holes with positive or negative tapers to be produced.
Our partner for laser micro-machining systems is Optec, who is based in Belgium. They are a world class leader in the design and build of state-of the-art laser tools, which can range from small R & D systems to full scale production equipment, encompassing part sizes from sub-millimetre to square metres!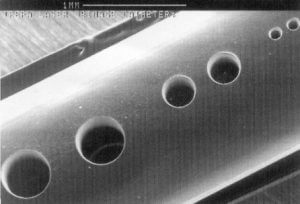 Optec are not a laser manufacturer, they freely select any commercial laser from 193nm to 10.6 micron wavelength according to the requirements of the application. Their specialist areas include excimer laser tools, short pulse laser systems (both pico and femtosecond) and CO2 TEA systems.  Optec's own ProcessPower software and OptecCAD are at the heart of the control system and provide a very user friendly interface which is still powerful enough for all applications.
Laser micro-machining can be a complex process to implement, but we take the difficulty out of it. Essentially we provide a one-stop solution from initial sample testing in the applications lab through process development and on to the design of an efficient laser tool. We integrate multiple technologies including laser, beam delivery, part handling, vision, process control and where necessary on-board test/inspection. Bespoke systems are subjected to agreed acceptance tests at both the Optec factory and the customer's final site of installation, thereby ensuring the system operates to its full potential.