Technical sales engineer Dan Cort introduces us to a new wireless product.
One of the most recent additions to the ever-expanding Laser Lines product offering is the Gentec BLU, a series of compact, powerful wireless laser power meters from Gentec.
Combining both detector and meter alongside Bluetooth connectivity, the BLU series enables users to display results on their mobile device of choice using the Gentec-EO BLU app (available for both iOS and Android).
Efficient, flexible and safe
This wireless capability enables users to measure laser power in hard-to-reach places. You can leave the unit completely sealed inside a laser enclosure, increasing operational efficiency, flexibility and safety. For field service engineers in particular, the built-in monitor brings a welcome reduction in the number of tools that need to be carried from job to job.
Operators can stand up to 30m away from the detector while taking measurements, and the lack of cables makes for a safer production or laboratory environment. As it's an all-in-one product, you only have to undertake one lot of calibration, reducing your calibration costs considerably.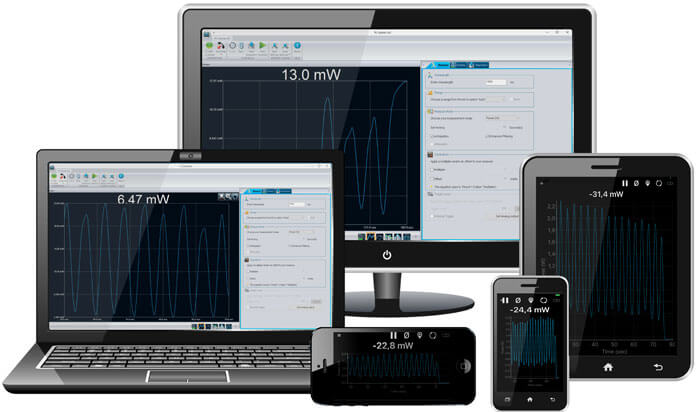 Customer-focussed
As we know from customer feedback, the truly wireless nature of the system will be very warmly received, particularly for those using high power lasers. A lot of wear and tear to existing systems can be caused by the plugging and unplugging of cables, something that won't be an issue with the new system.
Here at Laser Lines, we ensure customer feedback is taken on board and relayed back directly to the product developers. This guarantees that our customers can choose from a range of products to suit their specific needs. The Gentec BLU series is a perfect example of this customer feedback informing and contributing to product development.
Powerful and durable
With no compromise to functionality, the BLU series provides the same level of performance as a standard detector / meter combination, from mW to kW. The BLU series is also suitable for use with a PC via the supplied Bluetooth receptor, and its USB-rechargeable battery powers five days of continuous operation.
For ultimate customer choice, Gentec's most popular laser power detectors will be offered with the BLU option. Available to pre-order now, the series of BLU wireless laser power meters will ship from Autumn 2017.
For more information on how the BLU series could benefit your business, contact Dan Cort or the team on 01295 672588 or email photonics@laserlines.co.uk