Our range of laser marking systems can be used in all kinds of applications, but one that has been keeping us busy lately is ensuring the traceability of medical instruments while they are cleaned and decontaminated.
Reusable surgical instruments are often sterilised in centralised decontamination centres that take used instruments from nearby hospitals. A new regulation is on the way that requires the companies that run these services to be able to trace each and every instrument thorough the decontamination process.
One option for this is a label-based system, but the problem with that is that even the hardiest of labels deteriorate during the decontamination process, can become detached and need to be replaced.
Laser marking is a more cost-effective and reliable solution.
Laser marking solves the problem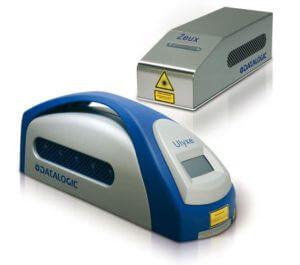 Laser Lines has provided a laser marking solution for this application for several customers recently – one example is a company called IHSS, and we have also been working with the NHS Tayside Central Decontamination Unit (CDU) in Dundee.
We provided a Datalogic Ulyxe system to NHS Tayside CDU, which marks instruments with a unique GS1 machine readable DataMatrix code incredibly quickly, while adding alphanumeric characters and logos if required too.
Thanks to its DPSS laser, which delivers high frequency pulsed laser energy, it doesn't interfere with the instrument's metallurgy. This is very important as, if it did, there would be a risk the instruments corrosion resistance might be compromised.
Consulting with the customer
After listening carefully to this customer's requirements, we worked with our partner Sciamed to demonstrate the Datalogic Ulyxe' capabilities to the Tayside CDU. We showcased its capabilities on various materials, such as anodised aluminium, plastic, titanium and stainless steel to prove it would work with whatever was thrown its way.
Now that the system has been installed, NHS Tayside CDU can trace the vast majority of the instruments it decontaminates through the washing, packing and installation processes, all the way to being used on a patient and returned back to the facility for cleaning again.
Not only does this make its processes compliant with the new legislation, it means that should anything be found to be unsafe, the instrument can be removed from the chain before it is used on a patient.
Alan Simpson, quality and technical manager at NHS Tayside said of the install: "The use of the laser marking equipment integrated seamlessly with our tracking and traceability system and has been an essential asset in ensuring the prevention of high-risk instrument migration."
Chris Ogden, manager of our industrial and scientific laser divisions said, "DPSS lasers are some of our most popular laser technologies due to their efficiency, reliability and flexibility. DPSS lasers can be superior to standard fibre lasers for plastic marking and other heat sensitive applications, due to their technical characteristics.
"Just as we did in this case, we take a lot of time to understand our customers' requirements before recommending one of the solutions from our wide range of lasers, so give us a call or email if you want to know how our products can improve your processes.
"We also supplied a workstation and training to make sure the NHS Tayside operators were safe when using the Datalogic Ulyxe, something we are happy to do for all our customers."
Give Chris Ogden and his team a call on 01295 672588 or email lasers@laserlines.co.uk to find out how laser marking can help you.